BOURNEMOUTH SATURDAY SENIOR CUP FINAL

BOURNEMOUTH POPPIES V HYTHE & DIBDEN FC
Thursday 3rd January 2019 at Hurn Bridge, Christchurch

BOURNEMOUTH POPPIES 1 HYTHE & DIBDEN 0
Bournemouth Poppies are winners of the BOURNEMOUTH SENIOR CUP for the fifth time in their history after River Smith's 52nd minute strike clinched a 1-0 victory over Hythe & Dibden in Thursday night's final at Hurn Bridge.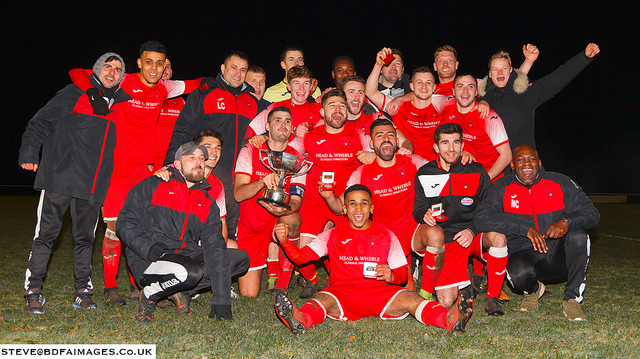 The Poppies striker had a lot to do when he collected the ball just inside the opposition's half but he accelerated past the Hythe & Dibden defenders and let fly with a fierce, low drive from the edge of the penalty area, straight at Hythe & Didben 'keeper Ellis Grant. The young goalkeeper, who had been outstanding up until then, looked to have it covered but the ball slipped from his grasp and finished in the back of the net.
Hythe & Dibden had despatched Brockenhurst, Christchurch, and Hamworthy United in addition to Poole Town's Development squad on their way to the final and the Wessex League Division One side once again showed that they could hold their own against Premier Division opposition in an evenly contested first half.
Hythe & Didben left back Rhys Crooks put an excellent ball through for Fillipos Terzidas in the 16th minute but Poppies goalkeeper Sam Jones was out quickly to block the shot while, at the other end, Ellis Grant narrowed the angle well to deny Harry Cooper.
Robbie Pitman headed the ball on for Liam Goulding to break through the middle in the 25th minute but, with the Poppies defence closing in on him, the Hythe & Dibden winger had to get his shot off quickly and Sam Jones was able to make a comfortable save.
The best move of the match so far came in the 30th minute when Steve Flynn and River Smith combined brilliantly to create an opening and Flynn's 20 yard blast was destined for the top corner of the Hythe & Dibden net until Ellis Grant somehow managed to get a hand to it and turn it behind.
Grant was in action again five minutes later, saving well from River Smith at the foot of the post.
There was some good approach play from Hythe & Dibden as the first half drew to a close resulting in a shot from Wayne O'Dell which was deflected behind for a corner.
Then a superb run by Fillipos Terzidas set up a chance for Matt Smith who sliced his shot wide of the target. The Hythe & Dibden striker was closer in first half stoppage time though, with a curling effort from just outside the penalty area which sailed over Sam Jones and clipped the top of the crossbar.
River Smith broke the deadlock seven minutes into the second half and the Poppies almost doubled their lead in the 65th minute when Harry Cooper produced a neat turn before forcing an excellent diving save from Elllis Grant.
Hythe & Dibden put a good move together in the 77th minute to create an opening for substitute Harrison Fay at the far post but goalkeeper Sam Jones dived bravely at his feet to block the shot.
Hythe & Dibden came forward again with man of the match Fillipos Terzidas making another impressive run before threading a promising ball through.
Ellis Grant made an excellent flying save at the other end then Steve Flynn put Dom Falco through but the Poppies substitute's shot across the face of the goal went just wide of the far post.
Hythe & Dibden had one last chance to get on terms in stoppage time when they hoisted a free kick into a crowded goalmouth. Sam Jones threw himself into the crowd of bodies in an attempt to punch the ball away but it was heading for the Poppies goal until central defender Harvey Elsom came to the rescue with a timely goal line clearance.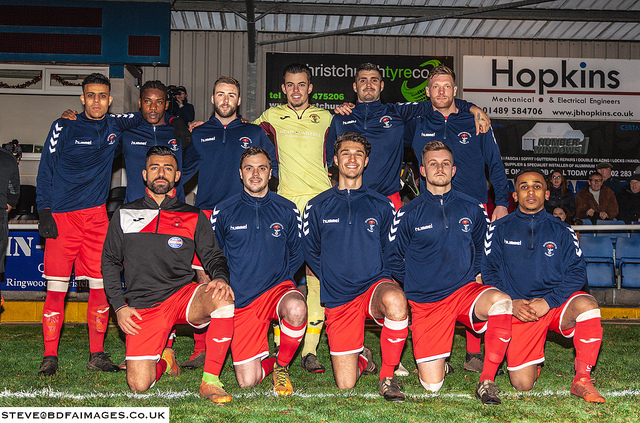 Bournemouth Poppies : Sam Jones, Manny Ohameje (Charlie Langston 52mins), Aziz Aldhayan, Chris Spears, Harvey Elsom, Ron Frost, Chia Khider (Dom Falco 57 mins), Harry Cooper, River Smith (Sami Garcia 86 mins), Steve Flynn, Al Zintany.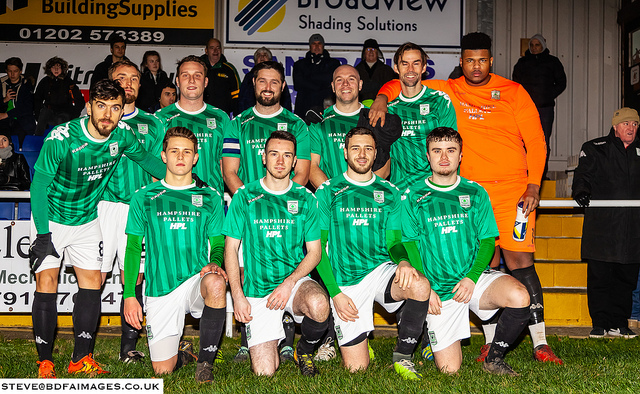 Hythe & Dibden : Ellis Grant, Dave Wyatt (George Pooley 66 mins), Rhys Crooks, Jo Tessem, Ryan Hayter, Dan Steer, Robbie Pitman (Ben Slade 75 mins), Fillipos Terzidas, Wayne O'Dell, Matt Smith (Cain Prentice 68 mins), Liam Goulding (Harrison Fay 68 mins).
BOURNEMOUTH SATURDAY SENIOR CUP SEMI-FINALS
TUESDAY 11th DECEMBER 2018 7.45 pm
Hythe & Dibden FC V Hamworthy UTD at Clayfields
HYTHE & DIBDEN 3 HAMWORTHY UNITED 1
Wessex Division One promotion contenders Hythe & Dibden are through to the Bournemouth Senior Cup final after an impressive 3-1 semi-final victory over Hamworthy United on Tuesday Night at Clayfields.
The Hammers are the third Wessex Premier Division side to be put to the sword by Hythe & Dibden on their way to next week's final against Bournemouth Poppies, the others being Brockenhurst and Christchurch.
The only chance in an evenly contested first half came four minutes before the interval when United's Luke Stone was put through but Hythe 'keeper Ellis Grant was off his line quickly to make a vital save.
The game burst into life five minutes into the second half when a 25 yard effort from Hythe & Dibden's Liam Goulding (50 min) took a significant deflection off a defender, giving Hammers' goalkeeper Tom Rees no chance.
United were on terms five minutes later when, following a corner from the left, Nathan Walker (55 min) connected with a cross to send a looping effort just inside the far post.
Back came Hythe & Dibden though and, when Tom Rees could only parry a fiercely driven effort from Sam Woodward, Rob Pitman (60 min) was on hand to slot home the rebound.
Goalkeeper Tom Rees kept the Hammers in the game with a succession of superb saves to deny Rob Pitman, Terzidis Filippos, Liam Goulding, and Cain Pentick.
Hythe & Dibden resisted United's attempts to get back on terms and Sam Woodward (90 min) made the game safe when he raced through in stoppage time to drill the ball past Rees.
WEDNESDAY 28th NOVEMBER 2018 7.45 pm KO
Bournemouth Poppies V Lyminton Town FC at Victoria Park Bournemouth
BOURNEMOUTH SATURDAY SENIOR CUP SMI FINAL Wednesday November 28 2018
BOURNEMOUTH POPPIES 3 LYMINGTON TOWN 1
Bournemouth Poppies booked their place in the BOURNEMOUTH SATURDAY SENIOR CUP final with a 3-1 victory over Lymington Town.
Poppies opened the scoring in the 20th minute when a long throw in from skipper Ronnie Frost into the Lymington goalmouth was turned in by Pepe Smith and they doubled their advantage ten minutes before the interval when Steve Flynn steered a header into the corner of the net.
Lymington were thrown a lifeline in the 76th minute when a slip by Poppies 'keeper Sam Jones presented Pierce McNamara with the opportunity to plant the ball in the empty net.
Poppies were reduced to ten men in the 85th minute when Chia Khider was given a second yellow card by referee Paul Barber but Ali Zintany blasted one in from 20 yards in the closing minutes to clinch a 3-1 victory.
Poppies will have to wait a little longer to discover who their opponents in the Hurn Bridge final will be after the other semi-final between Hythe & Dibden and Hamworthy United was postponed on Tuesday night due to a waterlogged pitch.
BOURNEMOUTH SATURDAY SENIOR CUP ROUND TWO REPORTS
Tuesday 6th November
Christchurch 1 Hythe & Dibden 1 ( 1-3 on pens)
Hythe & Dibden won this close encounter on Penalties. Ellis Grant made some fine saves, provided long accurate distribution of the ball, causing the Christchurch defence problems against the pace of the wide players and also making two saves in the penalty shoot out.
Scott Joyce opened the scoring in 30th minute following a cross from James King on the left. This followed a period of pressure following Hythe & Dibden shading the first 20 minutes of play.
In the second half Hythe & Dibden took more of a hold on the game, so it was not surprising that in the 83rd minute an equaliser came, the delivery from the flank evaded players in the goal area and left sub Dave Wyatt with a simple tap in.
Tuesday 23rd October 2018
Bashley FC 2 Bournemouth Poppies 3
In a match worthy of the final, two strong Wessex Premier sides played out this entertaining game in front of 143 spectators.
Bournemouth were by far the superior team in the first half and it was thanks to a superb display by Bash keeper, Jason Collins that the scores were level at halftime. It was, however, Bashley that opened the scoring when wingback Jack Smith took control of a lofted pass and his cross behind the defence was met by Nathan Clements who, challenged on the line, nudged the ball sideways for the storming Cameron Beard to bundle himself, the paint from the goalpost and the ball into the net. Just before halftime the Poppies equalised despite a blatant push in the area, which left Steve Flynn alone to score.
Poppies went ahead early in the second half when the ball ping-ponged in the penalty and until bouncing in the net off Shiv Roushaiani. With fifteen minutes to go Bashley were fortunate to draw level when a back pass was diverted by a Bournemouth defender into his own goal. Stung by this misfortunePoppies went straight into attack mode and two minutes later substitute Stepan Neronski scored the winner with a sharp shot from ten yards
Hamworthy Utd FC 10 AFC Burton 0
Hamworthy United from the Wessex Premier League entered the competition following a walk-over in the previous round. They entertained AFC Burton; at the Specsavers County Ground; the first Hayward Saturday League team to knock out a Wessex team in the previous round, when they defeated Ringwood United 3-1.
AFC Burton's defence was resolute for the first quarter of an hour and drew saves from Nick Hutchings the Hamworthy keeper. However, with 2 goals in the space of a minute and a further goal 4 minutes later the quality of a strong Hamworthy team shone through going in at half time 4-0 to the good and continuing the scoring in the third quarter of the match, with Burton still playing football and holding Hamworthy to only one further goal in the final quarter of the game. Goal scorers were Dan Cann (5), Luke Stone (3), and Captain Nathan Walker & Brandon Randle adding a further goal apiece
BOURNEMOUTH SATURDAY SENIOR CUP ROUND ONE REPORTS
Tuesday 25th September 2018
Scott Joyce rattled in seven when Christchurch overwhelmed Westover Bournemouth 12-1 in their first round tie at Hurn Bridge. Joyce took just 42 seconds to get off the mark and he'd completed his hat-trick with Max Wilcock and Harvey Wright also on target before Ian Male had pulled one back for the Hayward League side in the 35th minute. Joyce then scored his fourth of the game on the stroke of half time to give Christchurch a commanding 6-1 lead. Ben Satterley, Grant Cormack, James King, and another Scott Joyce effort had the Priory in double figures by the 72nd minute and Joyce added two more in the closing minutes.
Lymington Town turned up the heat in the second half to roast Parley Sports 6-1 at Lymington's Sports Ground. It was the visitors who opened the scoring after five minutes though in an incisive move started and finished by John Cook. Lymington were soon on terms though when a defensive mix up presented Charlie Willet with an open goal then, after 25 minutes, they took the lead when Ashley Jarvis swept home cross from the right. Elliott Cross increased Lymington's lead early in the second half and then, with twenty minutes left, Sam House struck twice in a minute to put the result beyond doubt. Ross Casey then rounded off the scoring for the hosts with a last minute penalty.
Wednesday 26th September 2018
Hythe & Dibden progressed into the last eight of the competition at the expense of Poole Town who they despatched 4-3 on penalties.The game had finished 3-3 with Hythe & Dibden's goals having come courtesy of Sam Woodward (2) and Benguela Ngwa.
BOURNEMOUTH SATURDAY SENIOR CUP ROUND ONE Tuesday 18th September 2018
RINGWOOD TOWN 1 AFC BURTON 3
AFC Burton became the first Hayward Saturday League team to get the better of Wessex League opposition in the BOURNEMOUTH SATURDAY SENIOR CUP when they produced an outstanding team performance to subdue Ringwood Town 3-1.
Levi Ridealgh latched onto Dan Seymour's superb through ball to put Burton ahead after 36 minutes but they suffered a setback when Jamie Trimble saw red ten minutes into the second half following a second caution.
They doubled their lead two minutes later though when Sam Nash lobbed the 'keeper after being put through on the right.
Ringwood halved the deficit in the 75th minute when Lee Vint squeezed an effort just inside the post but their hopes of getting on terms were dashed when Burton broke away down the left four minutes from time and Ridealgh's cross was steered in by Sam Nash.
TUESDAY 11th SEPTEMBER 2018
Bashley began their defence of the BOURNEMOUTH SATURDAY SENIOR CUP with a comfortable 6-0 first round victory over New Milton Town. The holders had a commanding five goal lead before half time thanks to Cameron Beard, Sam Jackson, Tony Rolls, and a couple of goals from Daniel Munday. Cameron Beard scored his second of the game midway through the second half.
Bournemouth Poppies found themselves trailing to Chris Long's 28th minute penalty against Hamworthy Recreation and it wasn't until just before the interval that they managed to get on terms with George Hatch converting Steve Flynn's cross. Sami Garcia converted a cross from second half substitute Mickey Finch to put Poppies in front midway through the second half and Poppies secured a 3-1 success when Tomokasu Murayama struck a minute from time with Finch again providing the cross.
Verwood Town finished all square with Sway for the second year running when they finished 2-2, second half goals from Charlie Gagic and Ollie Davis for Wessex Division One pacesetters Verwood cancelled out by strikes from Roy Viner and Luke Churchill for Sway. This time it was the Hampshire Premier League side, Sway, who progressed to the next round though, going through 4-2 on penalties.
In the Preliminary Round, Jude Nwachukwu and Matt Burt struck for Brockenhurst but Hythe & Dibden surprised the Badgers 4-2 to set up a first round tie with Poole Town.
Previous Winners